Some of the links below may be affiliate links, meaning, at no additional cost to you, I will earn a commission if you click through and make a purchase.
Difficult times call for perspective, reflection, and action. During this global pandemic, local businesses have been hit hard, many are a casualty of the economy coming to a sudden halt, others are hanging by a thread. I want to offer some inspiration and hope from brands that are sticking the landing.
As an entrepreneur, you, your team, and business may be doing your part to get this pandemic under control. You've invested time, effort, and money to get the economy to turn back on. Yet, security and health measures keep changing every other week, crumpling new plans in your hands.
Change was thrust upon you. But you are here, reading this, and you are not giving up.
The businesses and brands on this inspiring and empowering list have found new and creative ways to fight back, accept, and adapt to our changing times, reinvent themselves, and so can you!
With this post, my intention is to highlight the success of seven local brands that have impressed me for their creativity and their resilience.
Some came up with a whole new business strategy, incorporated new streams of income, embraced virtual landscapes, strengthen their social channels, founding new ways to keep their audience engaged and their customers connected and served, providing tons of value, support, and empathy.
Let's start with food 😉
Food and beverage brands that are sticking the landing:
Tía Cocina
To begin with, this local business has always been creative and experimental with its menu offers. Their space is curated to reflect a very familiar, corner shop vibe. During lock-down, they kept churning out their delicious concoctions through their online shop, La Tiendita de Tía.
On this online shop-front you can find everything, from their yummy vegan chocolate chip cookie dough you can bake at home, to prepared kits of their signature dishes, home-baked granola, and yogurt packs, homemade juices, their mimosa kit, sweet tarts and pies, coffee beans and more.
ChocoBar Cortés
This well-loved spot in Old San Juan has always thrived on their special kind of chocolate magic. Nothing seems to stand in their way. After hurricanes, earthquakes, social unrest, and now a pandemic, they not only know how to land on their feet but soar above the competition.
I believe this is a testament to their leadership and team. It shows great dedication to their craft and their service, to their customers and the people beyond the limits of their island paradise.
They've implemented a couple of creative and socially conscious strategies to engage with their audience and stay relevant and top of mind:
An up-leveled reward program
The "buy one" we "donate one" initiative
Free deliveries within the Old San Juan area
Pre-packaged beverage and pastry kits
Facebook Lives with head Chef and Baristas
Offering free shipping with the purchase of chocolate and brand-related products
Café Negro
This local coffee shop is run by an energetic family with a positive vibe.
They are inspiring because they pulled themselves by their bootstraps and stayed strong and proactive. Other local coffee shops did so too, (and I've included some in the honorable mention section at the end of this post.)
But the level of energy, dedication, consistency and focus on quality service by the team @cafenegropr puts them a few pegs above the rest on my list.
What they did for the locals was to keep up a bit of normalcy in the uncertainty of their lives…It was soothing to know I could still get my #chailatte with #almondmilk and cinnamon as the world as I knew it shifted.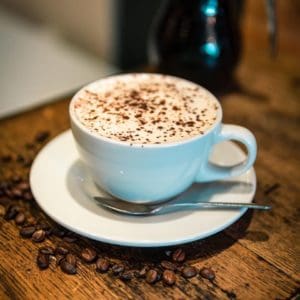 Arts and Media brands that are sticking the landing:
The Hound Magazine
(Full disclosure, I'm the editor of this disruptive magazine that hunts and exposes artists and creatives from all walks of life.)
During these past months, its creative director and the team of collaborators behind him have published, not one but two (soon to be three) special editions featuring artists living, coping and thriving in this Covid-19 world.
For emergent artists, this has meant continuous exposure and an outlet to channel and share their experiences living and creating through (and spite) these uncertain times.
Taller Artístico
This performance arts and musical theater organization has been inspiring the community for years.
Now, unable to showcase and develop their young talent on the stage, they've turned to virtual platforms, to connect with their audience sure, but also to provide their young performers the opportunity to perform, grow and participate in virtual workshops, classes, and camps.
Indeed for Taller Artistico the show must and will go on!
They've shown us that when you have passion, the need to express yourself and share an uplifting message with the community, nothing can stop you.
Personal brand that is sticking the landing:
Gio Camacho
This creative entrepreneur has been showing us how to thrive through recent challenges. From the very beginning of lock-down and even before, he's been preparing his audience, not to shy away from the unexpected, but face it with a proactive attitude.
Gio Camacho Inc. is the hub of this humanized branding expert. He's created mini-courses around a variety of marketing and branding topics, to use this time for learning about how to plant the seeds within your audience that will keep your business and brand growing during social distancing times and beyond.
Sigue a Gio por Facebook y sintonízate a su programa semanal, Lo Que No Te Dicen, así como para estar al tanto de los temas y fechas de la Mini Academia.
Service brand that is sticking the landing:
Boho.dogo
There's nothing stopping this gal and her boho.dogo lovin' team! How can we forget the furry friends who have shared these uncertain times with so many of us?
Boho. dogo never stopped inspiring you to care for, love, and appreciate your best friends. Their emotional well-being their health and their looks have also taken a toll.
They've seen you through these difficult times. Now they deserve to be extra pampered. Boho.dogo shared cuteness and valuable resources and information with their audience and clientele.
Their colorful Instagram feed has filled our days with their characteristic bohemian whimsy, happiness, and fuzzy feelings.
Honorable Mentions
What do you think about this selection of creatives fighting the good fight for their craft, their audience, and customers? Visit and follow to show your support!